How to Wrap a Shawarma – Step-by-Step Guide
Shawarma is a dish in which meat is cut into thin slices, piled up in a cone-like shape, and is grilled on a vertical slow turning spit. In the past, people used mutton, chicken, or lamb meat to prepare shawarma, but now, beef and veal are also used.
As it turns, thin slices of the cooked surface are shaved away. Shawarma is a famous fast food street snack throughout the Middle East, particularly in Egypt, the Levant, the Arabian Peninsula, and the rest of the Middle East.
How to Prepare a Perfect Shawarma?
Shawarma is made from seasoned marinated thin pieces of lamb, mutton, veal, beef, chicken, or turkey. The slices are stacked 60 cm (20 in) high on a skewer. You can also add lamb fat to make it juicy and flavored. A motorized spit rotates the meat stack gently ahead of a component, roasting the outer layer continuously. For serving, shavings are removed from the spinning stack with a long, sharp knife.
You can use many spices like cumin, cardamom, cinnamon, turmeric, paprika, and, in some locations, baharat. Shawarma is frequently served as a sandwich or wrap in pita or flatbread. Chicken shawarma is often served with garlic sauce, fries, and pickles in the Middle East.
One can use extra additions like diced tomatoes, cucumbers, and onions, pickled vegetables, hummus, tahini sauce, or amba mango sauce that increase the taste of perfect shawarma. Additional toppings such as grilled peppers, eggplant, or French fries are also available at some restaurants.
How to Wrap a Shawarma?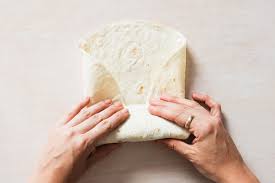 Shawarma is really a very delicious snack you can have as lunch or breakfast. It popularly adds more nutrients to the meal you give to your child in a lunchbox or as an evening snack.
The only thing that many people find difficult in relation to the shawarma is wrapping it. Most people are unaware or inexperienced in this manner. They just cannot handle its ingredients and often end up creating a mess.
Here are few tips you can follow to wrap shawarma properly without any hassle.
Place the wrap on a flat surface
Put the bread on it and add all your toppings. Try not to overload it
Before rolling away, fold the wrap towards you with the toppings
Use butter or mayonnaise to seal the end of the wrap
From where the fold ends, tuck the ends in
It is all done. Now you can cut the shawarma in two pieces if desired
You can use foil paper to keep it fresh
This all hassle is to be done when you are making it at home. But most people prefer to have ready-made shawarma from a renowned restaurant. Just in case if you are craving the delicious Halal shawarma, place an order at Mr. Zagros and enjoy a mouth-watering experience. We have a variety of other fast foods as well. The ingredients that we use are 100% Halal and free of contaminants. Try us now!