How Many Calories Are Present in A Shawarma?
Chicken Shawarma
Chicken Shawarma is grilled chicken wrapped in a cone and seasoned with Middle Eastern spices. It is popular street food in many nations and is eaten as a late-night snack. It's a traditional dish. You may either order shawarma from a restaurant or make it yourself at home. Its major delectable component is mayonnaise. Shawarma is a spicy dish that can get weighty if consumed in big quantities. It is a popular snack all across the world, particularly in Pakistan, India, Turkey, and Arab countries, and it is also pretty good.
Chicken shawarma is a popular evening snack for many people. However, there's no denying that it's high in calories.
Shawarma is the best in terms of taste and flavor, and it will undoubtedly make you fall in love with it. Shawarma is a superb meal, with delicate and juicy fillets and delectable spicy and rich sauces. If you've never tried it, just try it once and you'll forget about everything else. It will not let you down. These are the greatest terms to describe the attributes and aspects of a fantastic and best shawarma: tempting, tasty, and delectable.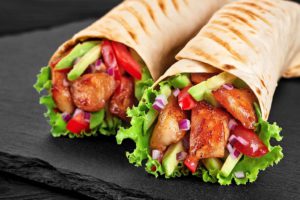 Where did Shawarma Come From?
Shawarma is one of the most popular types of street cuisine in the world. Years ago, we discovered its origins in Turkey. It is thought to have first appeared in the Ottoman Empire during the 19th century when the people devised a cooking approach that involved grilling meat on an upward spit. This is what Greek gyros and shawarma are based on. Shawarma, on the other hand, developed during the early twentieth century when Lebanese immigrants introduced it to the contemporary Mexican cuisine tacos al pastor.
Best Shawarma may appear simple, but it is far from simple due to the fact that not everyone can prepare it well.
It was traditionally cooked with lamb, mutton, or chicken. Shawarma can now be made with turkey, beef, or veal, depending on your preferences. Shawarma is regarded as one of the most popular street fast foods in the world, especially in Egypt, the Levant, and the Arabian Peninsula.
The word 'Shawarma' is thought to have originated in Arabic and meaning 'turning,' referring to the rotating rotisserie. It's similar to a sandwich, but with slow-cooked thin beef pieces and various delectable sauces, as well as a variety of green veggies. It's generally served with crusty, warm bread (pita).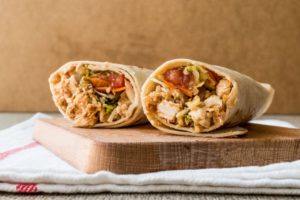 Calories in a Chicken Shawarma
The average quantity of calories in single shawarma is 392.3. Shawarma includes a range of components such as bread, chicken meat, onion, cucumber, tahini, yogurt, garlic, and a variety of sauces and pastes.
The following are some nutritional facts that are close to the truth:
| | |
| --- | --- |
| Nutrition | Value |
| Vit. A | 11.9 |
| Vit. C | 26.5 |
| Sodium | 758.8 mg |
| Potassium | 577.9 mg |
| Magnesium | 24.0 |
| Calcium | 13.8 |
| Iron | 25.3 |
| Cholesterol | 49.3 mg |
| Fat | 10.6 g |
| Protein | 32.3 g |
| Fiber | 7.4 g |
| Carbohydrates | 45.7 g |
| Sugar | 2.0 g |
Calories per single serving of a Chicken Shawarma
| | | |
| --- | --- | --- |
| Serving | Ingredient | Calories |
| 1/2 tbsp | Lemon juice | 2 |
| 1/2 tbsp | Olive oil | 23 |
| 1 gm | Salt | 0 |
| 2.53 gm | Garlic | 4 |
| 0.3 lb | Chicken meat | 221 |
| 33 gm | Yogurt | 20 |
| 1/2 tbsp | Tahini sauce | 52 |
| 70 gm | Pita bread | 193 |
| 13 gm | Lettuce | 2 |
| 2-3 slices | Tomatoes | 6 |
Is Chicken Shawarma a Healthy Food?
Despite the high-calorie content, shawarma is both tastier and healthier in some ways.
Shawarma is a wonderful choice for supper if you're trying to reduce weight.
Eat it with a salad and cucumber dressing instead of bread and added fat.
Shawarma is a delightful snack that does not add much fat to your body and will satisfy your taste buds.
It also contains a significant quantity of protein and is high in vitamins A and C.
It satisfies your body's calcium, magnesium, salt, and iron requirements.
To make shawarma healthier, try to
When cooking, use olive oil.
Use fresh veggies such as carrots, tomatoes, onions, and cucumber instead of pita.
While cooking the meat, keep the flame at a reasonable level. Roasting over a hot flame should be avoided.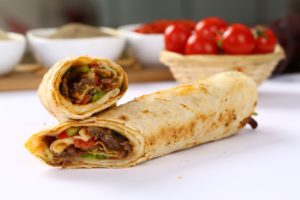 A Quick Chicken Shawarma Recipe
In cooking also, there is a well-known saying that goes, "Practice makes a man perfect." The more effort you put into it, the more unique shawarma you'll be able to make. Shawarmas can be made at home in a variety of ways with a variety of ingredient combinations. Here are a few pointers for you all. To begin, make certain that the meat is tender and flavorful. In this case, halal meat is the ideal option because it is healthful, devoid of contaminants, and fresh. Because meat is such an important ingredient in this meal, you must inspect it carefully to avoid spoiling its flavor. Both chicken and beef are equally suitable for use according to your preferences.
It also requires a lot of spicy ingredients, such as cumin powder, ginger powder, and garlic powder. Every component contributes to the exquisite, nutritious shawarma. When it comes to spices, you can also try your hand at experimenting. You can just avoid any spice if you are shut off from it. When it comes to shawarma sauce, it is made with delectable tahini sauce. It's not only delicious, but it's also really easy to make. All you have to do is combine the ingredients and blend them thoroughly. Any taste, such as garlic sauce or BBQ sauce, can be used. If you like your cuisine especially hot, you can add a green or red chili.
Shawarma is generally served with a variety of side dishes. One idea is to serve it with tahini sauce. Sauce fans can dip it in it for a more flavorful experience. Many people prefer it when it's served with a salad (platter of cucumber, olives, carrots, etc.). It's good with crunchy fries. It brings color and nutrition to the table, making everyone fall head over heels for this meal.
This is the easiest recipe to try if you want to make healthy and delicious street food.
Please Also Read About: Healthy Fast-Food to Eat – Healthy Fast-Food Options